11 February 2015
To all Obstetricians, midwives, doctors and nurses and other healthcare providers for today's feast of Our Lady of Lourdes with a prayer for the sick, especially mothers and their unborn and born children.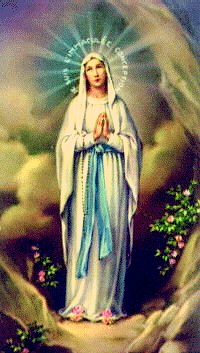 Do you believe in miracles? This prayer to Our Lady of Lourdes printed below commemorates a beautiful one! In 1858 the Blessed Virgin Mary appeared to Bernadette Soubirous (both pictured above), a humble 14-year-old French girl in a grotto near the town of Lourdes in France asking for, among other things, prayer and penance for sinners.
O ever immaculate Virgin, Mother of mercy, health of the sick, refuge of sinners, comfort of the afflicted, you know my wants, my troubles, my sufferings; deign to cast upon me a look of mercy. By appearing in the Grotto of Lourdes, you were pleased to make it a privileged sanctuary, whence you dispense your favors, and already many sufferers have obtained the cure of their infirmities, both spiritual and corporal. I come, therefore, with the most unbounded confidence, to implore your maternal intercession. Obtain, O loving Mother, the grant of my requests. I will endeavor to imitate your virtues, that I may one day share your glory, and bless you in eternity. Amen.
27 January 2015
MaterCare International, in a effort to use every penny we get on charitable projects, travels primarily with AIR MILES®reward miles for flights across Canada and internationally.
Use the MaterCare number
80077296378
when transferring, and
you
can donate your unused Club Sobeys points for a charitable cause.
The AIR MILES® Reward Program replaces the Club Sobeys Program in Ontario on March 27, 2015.
Better rewards are coming your way! That means Club Sobeys is ending, but don't worry! Any Club Sobeys points you have can easily be transferred to AIR MILES® reward miles. Simply set up your transfer at clubsobeys.com/transfer.
Set up your transfer by April 9, 2015 and earn 50 BONUS reward miles!
It's easy to transfer:
1. Visit clubsobeys.com/transfer and enter your Club Sobeys card number
2. Provide the last name and postal code that goes with that card number
3. Enter your AIR MILES® Collector Card number (
MaterCare number
80077296378).
Your remaining Club Sobeys points will automatically be transferred on March 26, 2015 at a rate of: 14 Club Sobeys points = 1 AIR MILES® reward mile
Click here to transfer now!